DASSETI COLLECT
Collect and compare manager and fund data, in half the time with Dasseti Collect
Digitize your due diligence operations and run ODD or IDD quickly and easily.
Monitor third parties and meet compliance mandates with a full audit trail.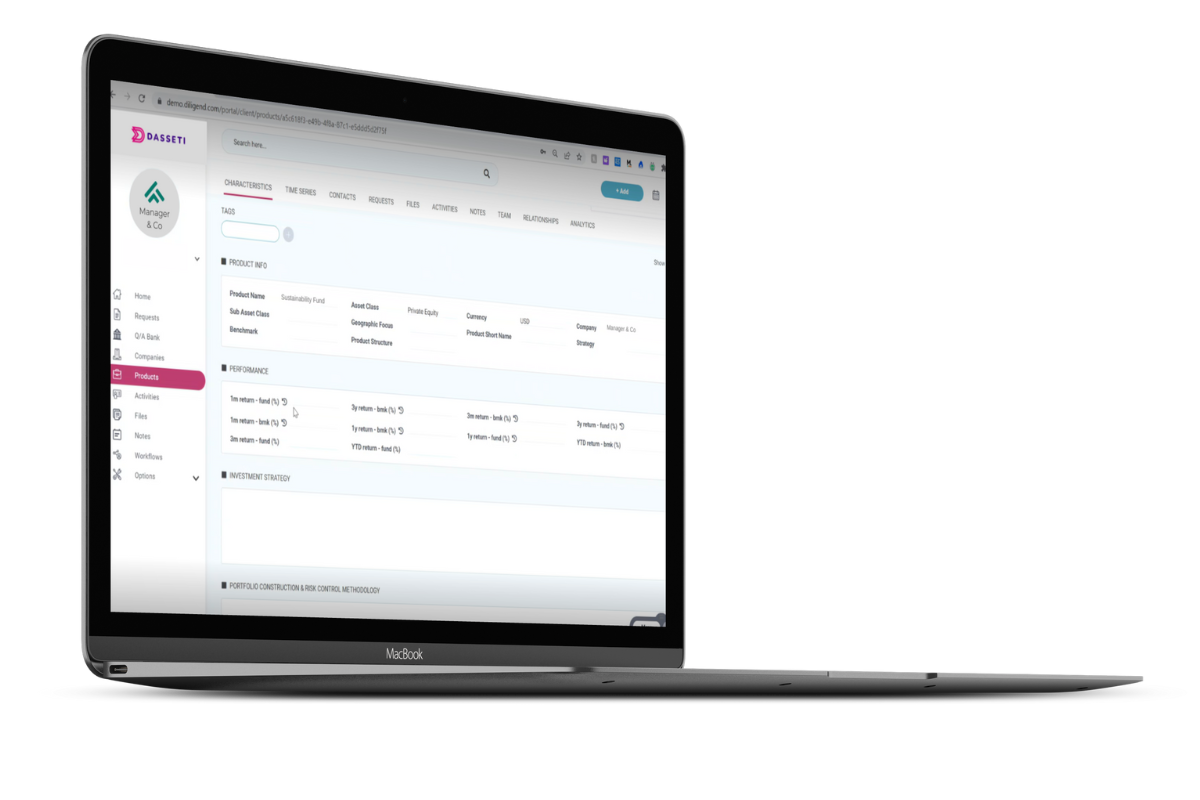 DASSETI COLLECT
Why does your team need Dasseti Collect?
Get the information you need, fast
Dasseti's DDQ Engine allows you to create questionnaires from scratch, use best practice templates or ingest pre-filled questionnaires. Simple, intuitive and customizable.
Never miss another warning sign again
Dasseti allows you to set up pre-defined flags and alerts to track risks within funds or managers.
Run due diligence your own way
Dasseti is fully customizable to match your own processes. Allocate tasks, track activities and progress. And see a full audit trail.
Dig deeper into your managers and funds
Dasseti's review module helps you do deep dives into specific managers or funds.
Data at your fingertips
See how the portfolio looks at a glance, with customizable, automated scoring and comparison.
Use data to your advantage, slice it any way and share it easily
Fully customized, automatic report creation in any format. Linked directly to your CRM or database.
Get better buy-in from your managers
The white-labelled manager portal is user friendly and intuitive. Managers can pre-fill from previous answers or drag and drop where required.
All your manager data in one place
Outlook and SharePoint integrations let you track contacts, emails and shared documents. Enrich your data with Dasseti Collect.
BEST PRACTICE GUIDE
Get our free Best Practice Guide to Digitizing the ODD Process
Step by step guide to taking your ODD process to the next level.
DOWNLOAD NOW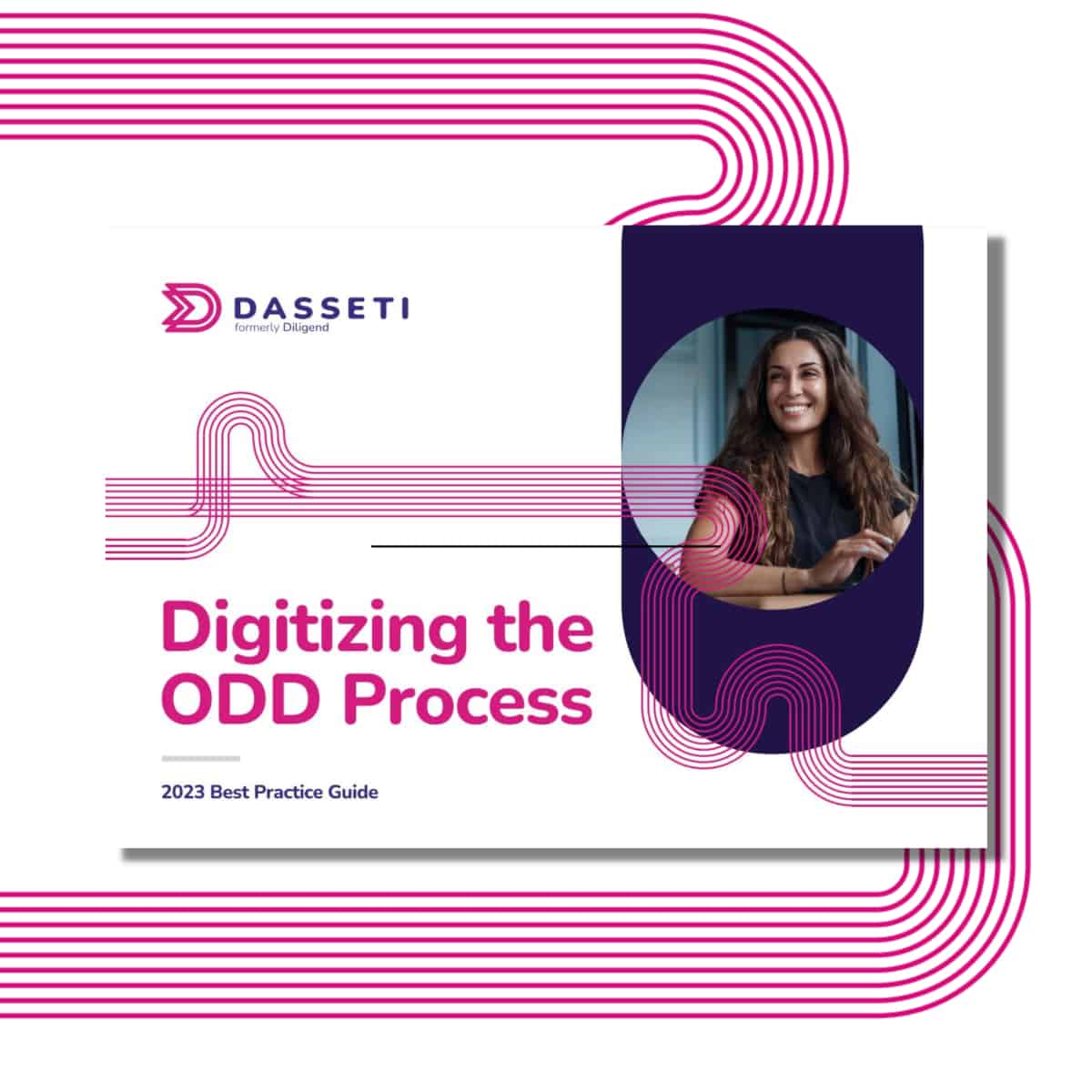 DASSETI ESG COLLECT
Use Dasseti ESG Collect to gather ESG data directly from GPs or portfolio companies
LEARN MORE
DASSETI COLLECT
One platform, many use cases
Operational Due Diligence

Investment Due Diligence

Investment Manager Monitoring

Research and Document Management

Delegate Oversight

Monitoring Sub-advisors

ESG and DEI Data Collection
Pre or post-investment
Enhance your operational due diligence process. Dasseti links directly to your CRM or database, automatically collecting files and scheduling emails and reminders. Monitor progress and tag communication with your managers. Add rules, flags and scoring. Collaborate with colleagues and gain deep insights into responses with real-time analytics.
Make the right investment decisions
Keep investment portfolios on track by digitizing your investment due diligence process. Use Dasseti's digital platform to perform due diligence on your investment portfolio, quickly and easily. Set your own flags, scores and alerts. Compare previous responses to show only what's changed.
Gain complete and continual visibility into your portfolio of managers
Regular, consistent monitoring of investment managers is essential for investors, investment consultants and other asset owners.

Dasseti makes it easier than ever to open regular dialogue with your managers.
Centralize and standardize your qualitative investment research
Empower your analysts with rich data that can be compared and analyzed as easily as quantitative data. Bring order and efficiency to investment research with a solution that flexes to fit your specific workflows.
Maintain visibility and control over delegates
Regulators are beginning to pay closer attention to the delegation of investment management functions. In Luxembourg and Ireland particularly, there is specific guidance on how managers are expected to maintain oversight of a delegate or counterparty. Dasseti is an ideal platform for delegate oversight, initial due diligence, deep dive qualitative due diligence and ongoing due diligence.
Ensure sub-advisors meet expectations
Sub-advisors bring specific expertise and track record to support an investment portfolio. Ensure you have the very latest profiles across your sub-advisor landscape with Dasseti's due diligence platform.
Custom dashboards to display the data you need to see
ESG and Diversity, Equality and Inclusivity issues are at the top of the agenda for many investors, asset managers, private equity firms and citizens. Any data can be collected via Dasseti Collect and displayed in a custom dashboard to show emissions, diversity, or any other metric. Dasseti has digitized the ILPA DDQ which includes diversity metrics from the PRI. Or clients can design their own questionnaires to collect the specific information they need to see.

Dasseti Collect
Institutional Investors
Private Equity General Partners seeking insights into portfolio companies
---
Digitized DDQ Engine

Fund and Manager Tracking

Workflow and Collaboration Tools

Review and Risk Management

Automated Scoring and Comparison

Analytics and Reporting

CRM Capabilities

Research and Document Management

Dasseti Collect +
Consultants

Contact us to discuss your exact requirements
---
Every feature in Dasseti Collect, plus

Dedicated Client Portal

Private Cloud Hosting

White labelling

Advanced Custom Reporting Options
All your due diligence data in one place