DASSETI ENGAGE
Managers and GPs: Meet the new Investor Relations tool that will save hundreds of hours
Free up time to build stronger relationships with investors.
Dasseti Engage speeds up communications, helps you deliver a consistent message to investors.
Update data once, share all over. Dasseti Engage integrates with existing platforms allowing you to publish centrally maintained data to all client templates and standard DDQs.
Secure document sharing gives you full control over who sees your information.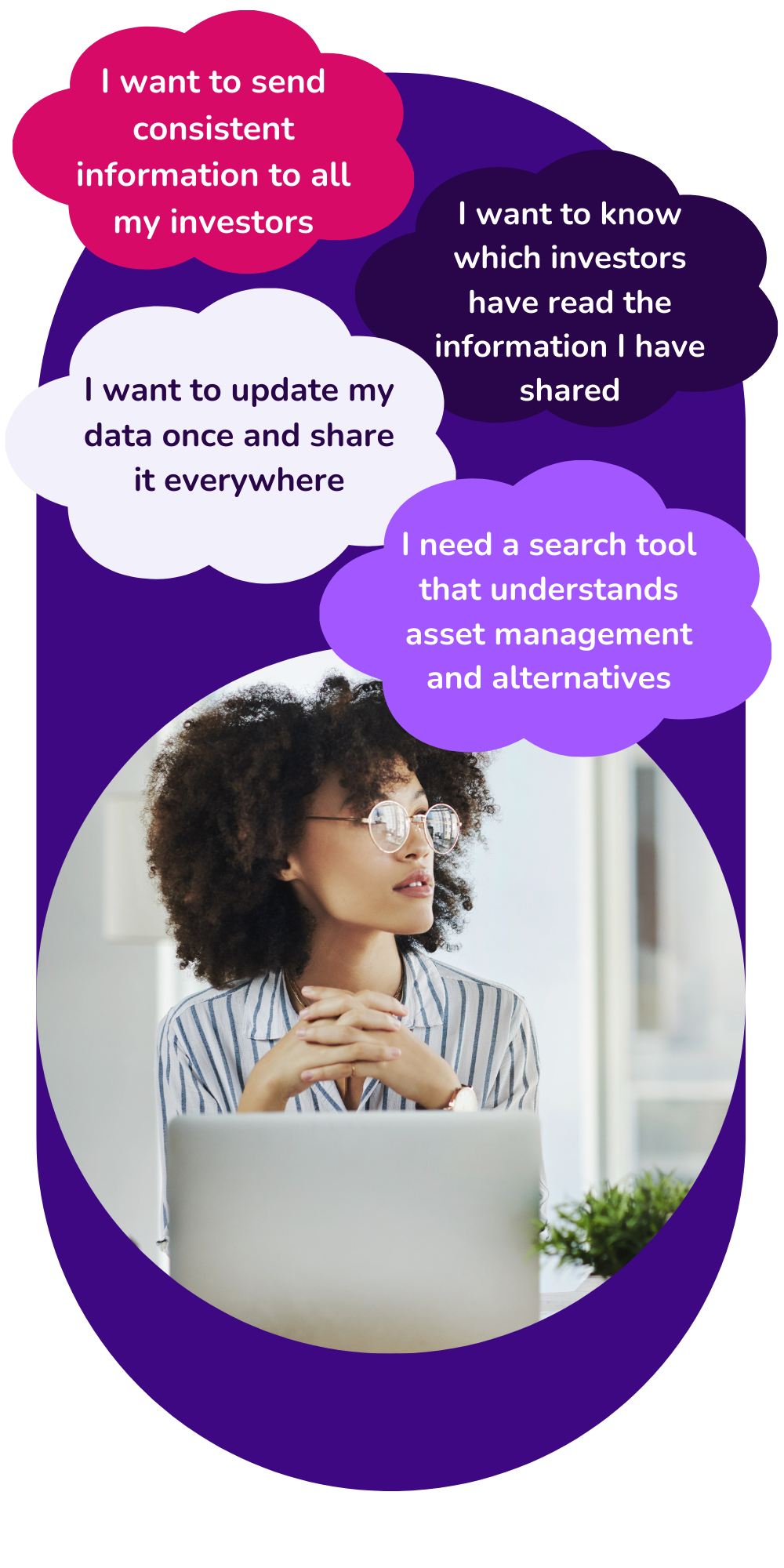 Meet Investor Relations' team challenges head on
The sheer volume of data flowing between managers and allocators, and GPs and LPs is hard to manage. Increasing headcount isn't always the best answer. Providing your current team with tools to plug capability gaps is a smarter alternative.
DASSETI ENGAGE
Streamline investor relations
From small GPs to the world's largest asset managers, Dasseti Engage allows IR teams to deliver consistent information, fast, using the platforms investors prefer.
Respond to DDQs and RFPs quickly and easily
When DDQs or RFPs come in, automate the first response draft with Smart Response technology. Then take time to customize and approve.
Publish new data to every investor with a single click
Update information centrally and publish to all clients easily. Save hundreds of hours on manual updates.
Keep sensitive investor information safe
Share live data with LPs via secure investor portals. See who has accessed your information, and restrict where that can be shared.
Meet your investors where they are
Dasseti Engage uses APIs to integrate with other platforms, investor templates, standard DDQs, consultant databases, Word, Excel and Chrome. Don't ask investors to change their systems to meet your needs.
Meet increasing DDQ and RFP volumes with Dasseti Engage instead of new IR hires.
Provide consistent data to every investor
Ensure high quality communications, from every team, in every location, across every asset class.
Interact with investors in real time
Drive more insightful, valuable investor communications with secure sharing in investor portals.
Manage profiles and QA Bank data in one place
Use Dasseti Engage to manage profiles and QA bank data or integrate with your exiting RFP software or QA bank and automate updates across all templates.
DASSETI ENGAGE
Respond, publish and distribute up to date information to allocators with a single solution
Respond to DDQs and RFPs faster.
Publish up to date information in recurring client and consultant templates.
Distribute tailored client information smartly and securely.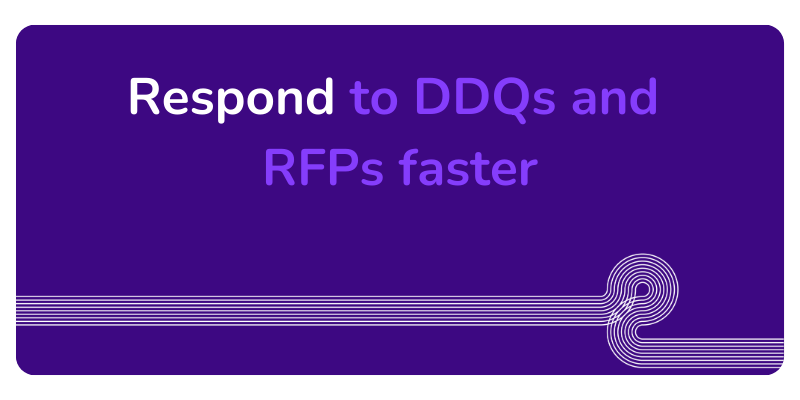 Why are volumes increasing?
Increased scrutiny for operational risk and outsourcing, coupled with tightened regulation has increased the volume of questionnaires allocators send out. High profile failures also causes ODD focus to peak sporadically.
What impact is the increased volume having?
IR teams are too busy providing information to clients and don't have time to access new prospects. The quality of information they are providing reduces as the quantity increases.
What is the solution?
Dasseti Engage allows IR teams to respond to DDQs and RFPs faster. Using AI and automation, Dasseti Engage suggests the best-fit responses. New team members use the platform to get instant access to approved company data and a historical record of all responses.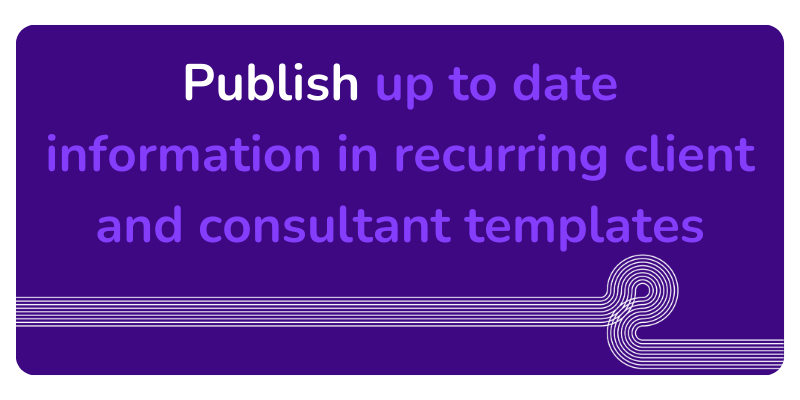 Why do you have so many different templates to work in?
Each investor and database has different data entry requirements. One fund may need to report across 50 different quarterly reports or databases.
Finding the right place to update information following a change is a manual process and can be extremely time consuming.
What impact does so many templates and formats have on IR teams?
IR teams are at risk of providing inconsistent responses to allocators, when there are so many different formats and templates to update. Checking and updating hundreds of different templates is manual and time consuming, but it is not feasible to ask allocators to change their templates to suit your processes.
What is the solution?
Dasseti Engage integrates with existing IR software to allow teams to update information once, then publish across all client templates, DDQs and databases. Our powerful AI-enabled search recognizes variants in terminology and matches the correct data.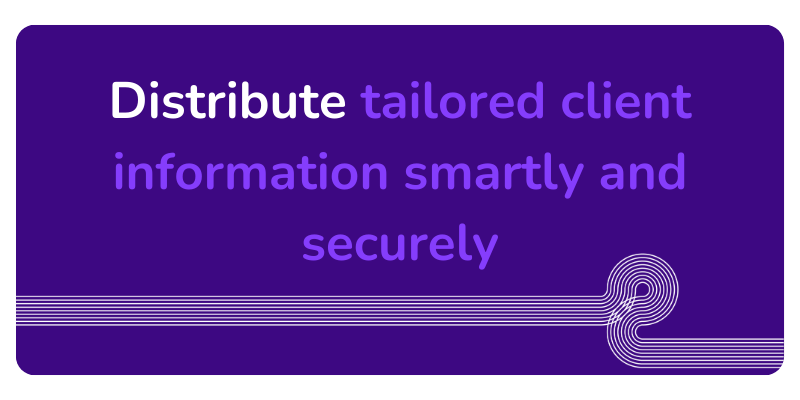 How do you communicate with Allocators/LPs in a way that works for them?
Allocators, especially LPs often want to consume fund and manager data in a way that is familiar to them.
Allocators and LPs want easy access to information, but how do you know when they have read the information?
Sharing highly sensitive investment data via email is insecure. Other solutions such as data rooms can be a better option, but may not provide the intelligence and insights that you're looking for.
What is the solution?
Dasseti Engage provides real time sharing, in a secure and auditable portal. You can track live access of your profiles and DDQs. See who has accessed the materials, when and for how long. Granular security settings allow you to lock down files and data to the individual level, preventing unauthorized sharing, printing or downloading.
DASSETI ENGAGE
Transforming Investor Relations from reactive to proactive. Without the hard work.

Dasseti Engage: Manager and GP Investor Relations Software
Custom Pricing
---
Secure investor portals

Centralized response bank

Live data sharing

Smart Response auto suggestion

Powerful investment-specific search engine

Update once, publish everywhere

Team workflow and oversight

Microsoft Word, Excel and Chrome plugins

CRM for investor profiles and file management

Full audit trail for compliance

Customizable report templates

Word, PDF and Excel document scraping

Integrates with current Investor Relations software stack

White labelled investor portals available on request
Transform the way your Investor Relations and RFP teams work