PUBLISHING
Publish your company and fund data to multiple databases and client templates in minutes
RFP and Investor Relations teams can spend a lot of time customizing data to fit into all the different consultant databases and client templates. Dasseti has introduced a solution that can save hundreds of man hours.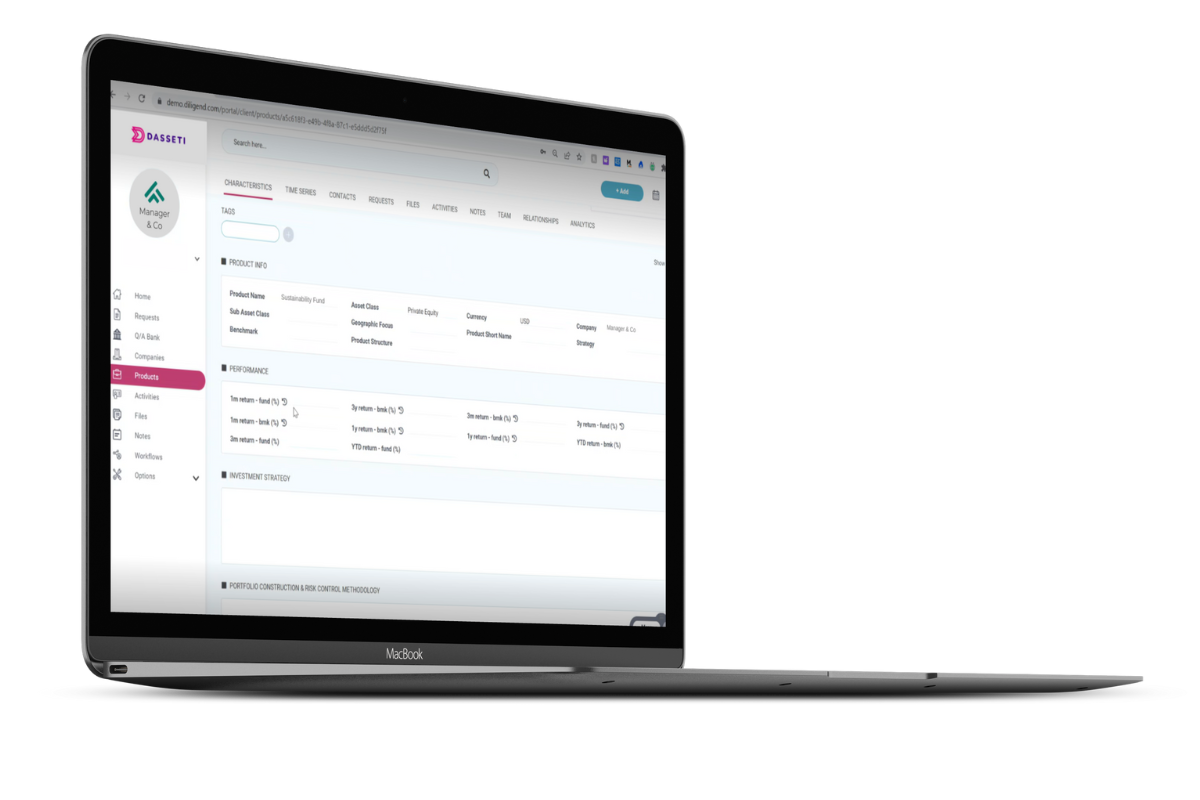 I want to update my data in one place, but automatically share it in the right format
Dasseti Engage provides managers and GPs with a solution to the time consuming job of maintaining consultant and client databases and various client templates. When one piece of fund or company information changes, it causes a knock on effect and hundreds of templates need to be updated.
Works alongside existing RFP software
Dasseti can ingest data from your current RFP tool or data store and share it with all the different templates and databases.
Industry specific terminology
Because Dasseti Engage is only for the investment sector, the platform recognizes industry specific language variations and adapts accordingly. Using AI the platform is continually adapting and improving.
Automatic content resizing
Something as small as different word counts between databases and templates can impact the administrative burden greatly. Dasseti can resize content to suit the different templates.
Meet your investors where they are
Don't ask your investors and consultants to change the way they operate. Flex your systems to suit, without adding extra workload to your RFP or IR team.
DASSETI ENGAGE
Respond, publish and distribute up to date information to allocators with a single solution
Dasseti Engage
Custom Pricing
---
Secure investor portals

Centralized response bank

Live data sharing

Smart Response auto suggestion

Powerful investment-specific search engine

Update once, publish everywhere

Team workflow and oversight

Microsoft Word, Excel and Chrome plugins

CRM for investor profiles and file management

Full audit trail for compliance

Customizable report templates

Word, PDF and Excel document scraping

Works with current Investor Relations software stack

White labelled investor portals available on request
I've used Dasseti to respond to investor requests in the past. Is this the same platform?
No, although it is similar. If you have been invited to use Dasseti by an investor in the past, you will be familiar with the Dasseti Manager Portal. Dasseti Engage is a brand new platform which takes the Manager Portal a step further. With Dasseti Engage you can maintain responses in a centralized bank, respond to ANY investor request and collaborate with your team members using the platform.
How does Dasseti Engage speed up the response process?
Dasseti Engage allows you to create and maintain a Question and Answer bank quickly and easily.
When DDQs or RFPs come in, you can respond in Word, Excel, or your Chrome browser using our powerful plug ins. Dasseti Engage suggests the most accurate response based on your own parameters and gives you a head start to complete the response quickly and consistently.
Team collaboration tools allow you to assign questions and maintain oversight over the response workflow, to monitor progress.
How do I access Dasseti Engage?
Dasseti Engage is a cloud-based software app that can be accessed via any web browser.
Try it for free on a supported trial, invite your colleagues and then easily switch to a paid account.
Transform your DDQ and RFP response process