Looking for ways to collect data from portfolio companies or respond faster to LP requests for information?
Designed specifically for the investment sector, Dasseti has two solutions that are ideally suited to meet your data challenges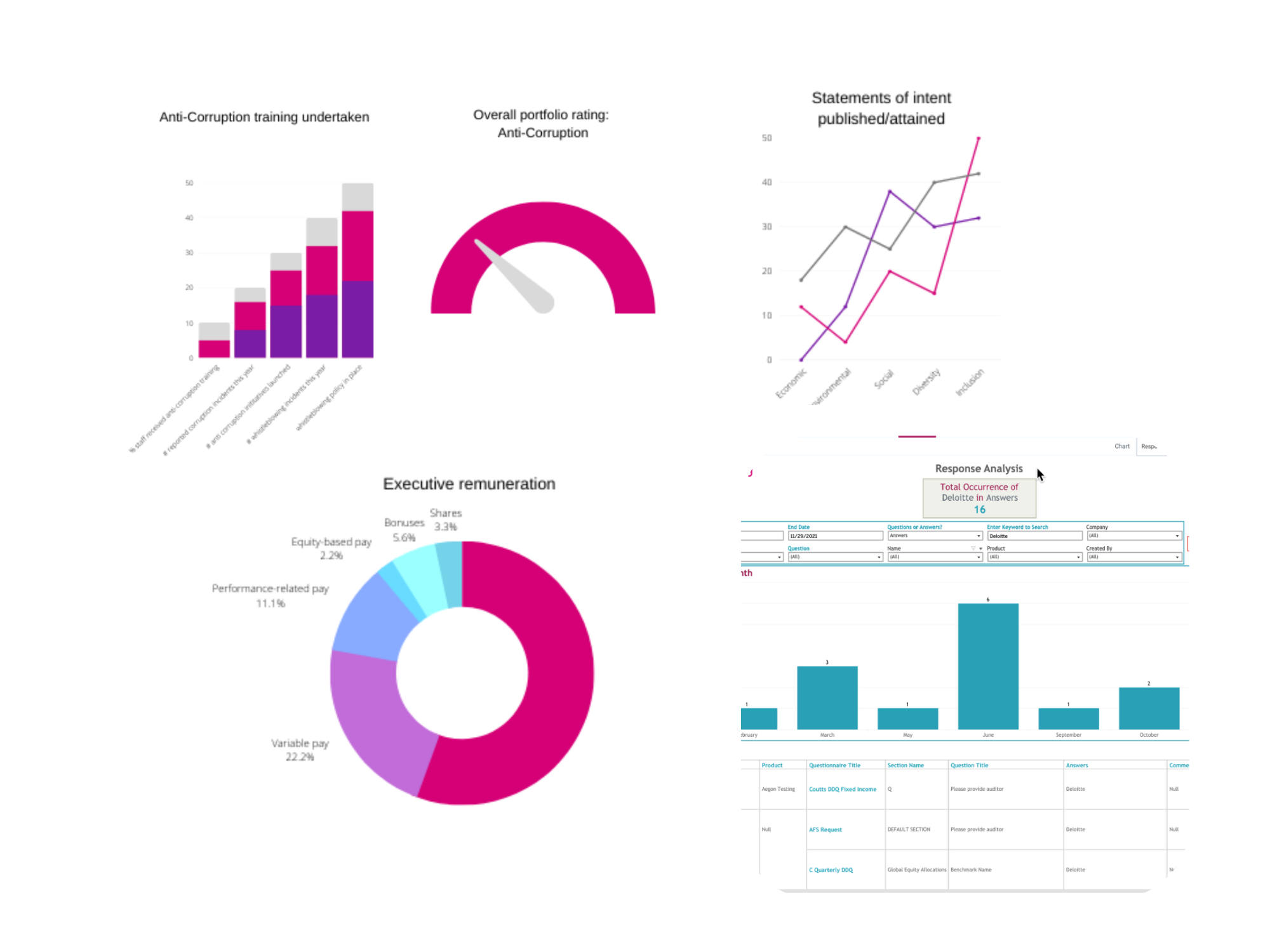 DASSETI COLLECT FOR GPS
Get a clear view of your portfolio companies' ESG credentials with Dasseti ESG Collect
Collect data directly from portfolio companies
Compare variable ESG data more easily
Display data in interactive dashboards
Meet disclosure requirements
Create custom client report templates
DASSETI ENGAGE FOR GPS
Engage more effectively with your LPs and win more mandates with Dasseti Engage
Automate RFP responses
Create and share custom DDQs
Reach a wider LP audience
Improve client communications
Fundraise more effectively
Dasseti Collect for GPs
There has never been an easier way to collect data directly from your portfolio companies, before sharing easily with LPs. Dasseti Collect is designed specifically for the investment sector. We know that one size doesn't always fit all.
ESG Dashboards
Collect and analyze ESG and diversity data from your portfolio companies. See the data that matters to you and your LPs, sliced or diced across sectors, companies or funds.
Client Reports
Create data-driven reports using the qualitative data collected directly from portfolio companies. Templates speed up recurring reports.
Regulatory Reporting
Collect and report on ESG metrics across your portfolio companies as directed by SFDR and other regulatory requirements.
Document Scraping
Ingest and use the data from any document, in any format. Remove the need for manual data input with Natural Language Processing.
Questionnaire Engine
Create questionnaires from scratch, use best practice templates or ingest pre-filled responses. Share a simple link with your portfolio companies.
Fund and Portfolio Company Data Tracking
Set up pre-defined flags and alerts to track risks within funds or companies.
Workflows and Collaboration Tools
Fully customizable to match your own processes. Allocate tasks, track activities and progress. And see a full audit trail.
Review and Risk Management
Review only the data you want to see in the fully customizable review module.
Automated Scoring and Comparison
Review your portfolio at a glance, with customizable, automated scoring and comparison features.
Analytics and Reporting
Fully customized, automatic report creation in any format. Linked directly to your CRM or database.
Response Portal
The response portal is user friendly and intuitive. Portfolio companies can pre-fill from previous answers or drag and drop where required.
CRM and Document Management
Outlook and SharePoint integrations let you track contacts, emails and shared documents. Enrich your data.
DASSETI COLLECT FOR GPS
Get full visibility of your portfolio companies to share with clients and regulators
Dasseti Engage for GPs
Streamline investor relations and client services with Dasseti Engage.
Dasseti Engage allows private equity investor relations and client services teams to delivery consistent information, fast, using the platforms LPs prefer.
Respond to DDQs and RFPs quickly and easily
When DDQs or RFPs come in, automate the first response draft with Smart Response technology. Then take time to customize and approve.
Create and share your custom DDQ
Create your custom DDQ and share it securely with your own clients and a wider pool of LPs if you choose to.
Keep sensitive investor information safe
Share your live data with LPs via secure investor portals. See who has accessed your information, and restrict where that can be shared.
Work in the way your LPs prefer
Dasseti Engage can work with your LPs systems and preferred data formats. No need to ask clients to change their systems to meet your needs.
Manage your client team headcount
Meet increasing DDQ and RFP volumes with Dasseti Engage instead of new hires.
Provide consistent data to every LP
Ensure high quality communications, from every team, in every location.
Interact with LPs in real time
Drive more insightful, valuable LP communications with secure sharing via LP portals.
Manage profiles and standard company data in one place
Use Dasseti Engage to manage profiles and standard company data or integrate with your exiting RFP software or QA bank.
DASSETI ENGAGE
Respond, publish and distribute up to date information to allocators with a single solution

Dasseti Collect
General Partners (GPs)
Get the data you need from your portfolio companies. Share quickly and securely with your LPs.


---
ESG and DEI data collection

Create Data-Driven ESG Reports

Portfolio Company Tracking

Data Room Integration

Workflow and Collaboration Tools

Customizable Scoring and Comparison

Advanced Analytics

CRM

Research and Document Management

Custom LP Reporting

Regulatory Reporting

Dasseti Engage
General Partners (GPs)
Respond to LP requests for data. Share your custom DDQ securely, smartly and with a wider audience of LPs.
---
Centralized Response Bank

Smart Response Auto Suggestion

Live Data Sharing

Powerful Investment-Specific Engine

Update Once, Share Everywhere

Team Workflow and Oversight

MS Word, Excel, Chrome, Outlook Plugins

Custom Report Templates

CRM

Full Audit Trail

Document Scraping
Making data visible in private markets