SHARING A STANDARD DDQ
Distribute live data to your investors and LPs
See how they interact with your content and understand what is landing well. Provide secure access to materials and make changes in real time.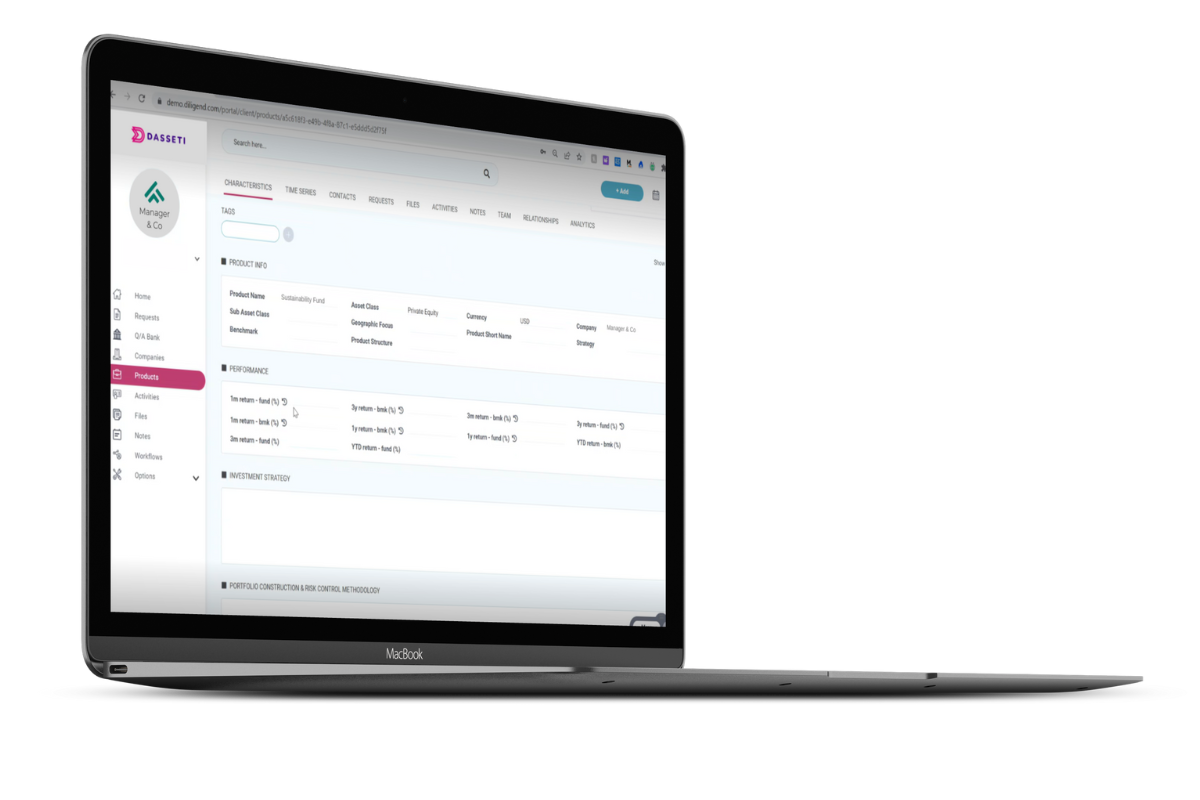 I want to create and maintain my own standard DDQ then share it with selected investors
Dasseti Engage provides managers and GPs with a platform to create a completely bespoke standard DDQ that can be shared with any investor. Custom branded, secure investor portals offer great insights to how investors are interacting with your content.
One size doesn't always fit all
We don't dictate what your standard DDQ should contain. That's up to you. We just help you keep it secure and share it intelligently.
With custom branded investor portals that provide a high quality, tailored and seamless experience for your clients.
See who is looking at your content
Don't put your investor materials out and hope for the best. See exactly who is opening and reading your content.
Granular security settings mean you can prevent unauthorized access to your content and stop it falling into the wrong hands.
DASSETI ENGAGE
Transforming Investor Relations from reactive to proactive. Without the hard work.

Dasseti Engage: Manager and GP Investor Relations Software
Custom Pricing
---
Secure investor portals

Centralized response bank

Live data sharing

Smart Response auto suggestion

Powerful investment-specific search engine

Update once, publish everywhere

Team workflow and oversight

Microsoft Word, Excel and Chrome plugins

CRM for investor profiles and file management

Full audit trail for compliance

Customizable report templates

Word, PDF and Excel document scraping

Integrates with current Investor Relations software stack

White labelled investor portals available on request
I've used Dasseti to respond to investor requests in the past. Is this the same platform?
No, although it is similar. If you have been invited to use Dasseti by an investor in the past, you will be familiar with the Dasseti Manager Portal. Dasseti Engage is a brand new platform which takes the Manager Portal a step further. With Dasseti Engage you can maintain responses in a centralized bank, respond to ANY investor request and collaborate with your team members using the platform.
How does Dasseti Engage speed up the response process?
Dasseti Engage allows you to create and maintain a Question and Answer bank quickly and easily.
When DDQs or RFPs come in, you can respond in Word, Excel, or your Chrome browser using our powerful plug ins. Dasseti Engage suggests the most accurate response based on your own parameters and gives you a head start to complete the response quickly and consistently.
Team collaboration tools allow you to assign questions and maintain oversight over the response workflow, to monitor progress.
How do I access Dasseti Engage?
Dasseti Engage is a cloud-based software app that can be accessed via any web browser.
Try it for free on a supported trial, invite your colleagues and then easily switch to a paid account.
Transform your DDQ and RFP response process