Looking for private markets ESG data?
Collect the ESG metrics you need for regulatory disclosures and client engagement
One platform for LPs and GPs (Direct Investments and Fund of Funds) to collect, analyze and share ESG data from across the private markets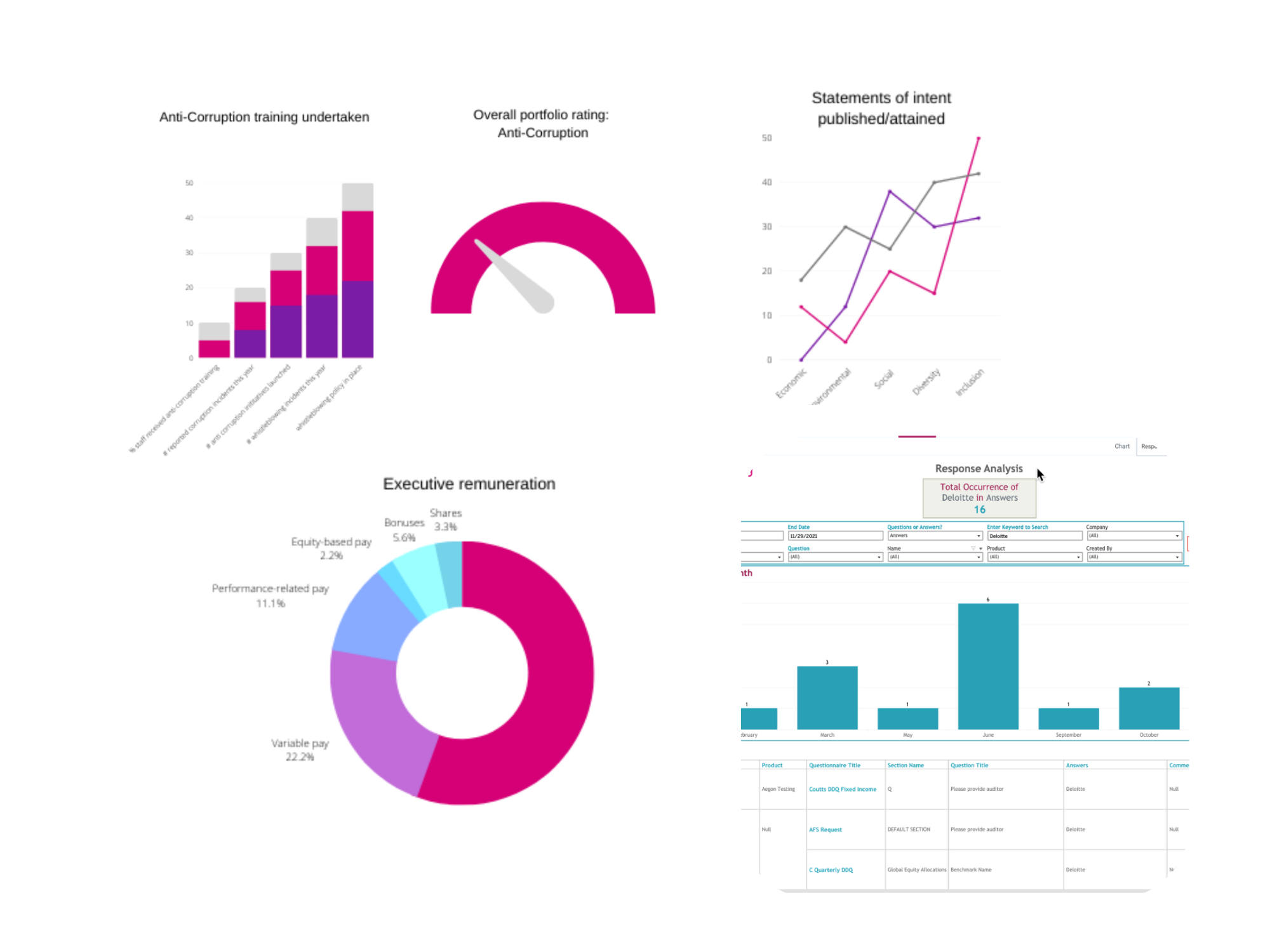 You will benefit from Dasseti ESG Collect if you are a:

LIMITED PARTNER
Understand the ESG credentials of your investments
Collect ESG data directly from your GPs / portfolio companies
Fulfil internal requirements and track progress against targets
Ensure GPs are meeting their expected ESG criteria
Inform investment decision making
TRY FREE

GENERAL PARTNER / DIRECT INVESTOR
Collect and analyze ESG data from portfolio companies at scale
Apply your own weightings and create a score based on what is material to you and your investors.
Flex to meet any incoming framework or regulation.
Report directly to clients or regulators
TRY FREE

PRIVATE EQUITY FUND OF FUNDS
Collect and Report ESG data on your underlying fund investments
Collect fund level ESG data, to analyze and report entity, by sector, or roll up into a full portfolio overview.
Meet regulatory reporting requirements and client engagement goals.
TRY FREE
How does Dasseti ESG Collect work?
Step 1 - Collect

Step 2 - Customize

Step 3 - Calculate

Step 4 - Benchmark

Step 5 - Report
Collect quantitative and qualitative data directly from any entity using a secure digital collection tool; responsible investment strategy, training, policies, screens, material factors, use of standards, due diligence processes, third party and supply chain metrics etc.
Aggregate and customize flags, alerts and tagging to make comparison simpler.
Dasseti does not impose a proprietary rating or scoring methodology. You choose how you weight, rate and score portfolio companies in order to provide a comparative data set.
Benchmark against industry standards from an ecosystem of providers, using our third party APIs, or data extraction.
Quickly and easily create custom branded reports using any data point in the platform. Share securely with clients and regulators in any format.
Meet the requirements of any reporting or disclosure framework
INSIGHTS
ESG Reporting: Navigating the Myriad Standards
Read our key takeaways from the recent Private Equity US ESG Summit in New York.
READ THE FULL ARTICLE
INSIGHTS
Navigating ESG Reporting
Read Part 2 of our Private Equity US ESG Summit write up
READ THE FULL ARTICLE
Meet Disclosure and Reporting Requirements with Dasseti Collect for ESG