INDUSTRY STANDARD DDQ
Investment Company Institute Subadviser Oversight DDQ
The attached Questionnaire has been developed to assist fund advisers in overseeing their subadvisers.
Dasseti clients can now access the ICI Subadviser DDQ in the platform.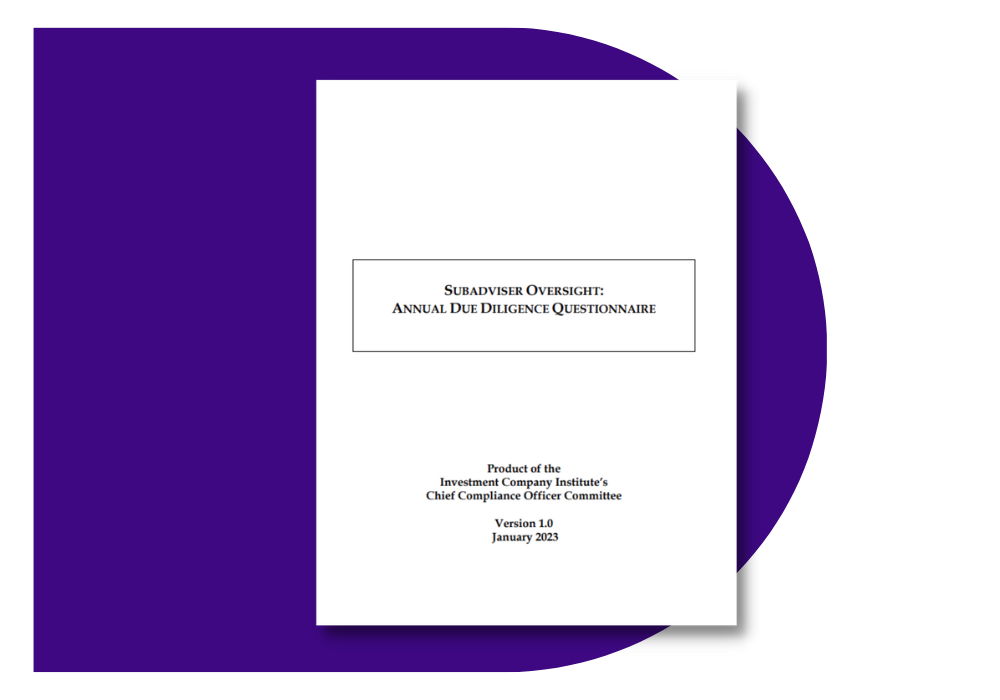 ICI Subadviser Oversight DDQ
To be completed annually by subadvisers and shared with advisers for which they provide subadvisery services
This questionnaire might be used by an adviser as a stand-alone oversight review, to
inform oversight discussions with the subadviser, or as a prelude to an on-site visit to the subadviser.
ICI Subadvisory Oversight DDQ
The ICI Subadviser Oversight DDQ may be used in different ways by different firm types:
For Advisers

For Subadvisers

For Consultants
For advisers using the services of subadvisers
The ICI Subadviser Oversight DDQ may be partially completed by advisers in the Dasseti Collect platform and shared via the portal for completion by the subadviser.
For Subadvisers
Complete the Subadviser Oversight DDQ and maintain it to ensure you are well prepared to respond to questions from adviser clients. This can be done in its current Word format or digitally in the Dasseti platform.
Consultants offering subadviser oversight services to clients
Consultants can use the Dasseti platform to monitor subadvisers on behalf of clients. They can use the digitized ICI DDQ as a basis for their oversight. Dasseti for Consultants can include a white labelled platform and custom reporting, to allow consultants to easily monetize the subvadviser oversight service.
See the latest industry standard DDQs in action on the Dasseti platform