GENERAL PARTNERS
Respond to LP requests faster and more accurately
Don't spend hours manually responding to RFPs and DDQs from LPs. Automate repetitive tasks while improving the quality of your responses.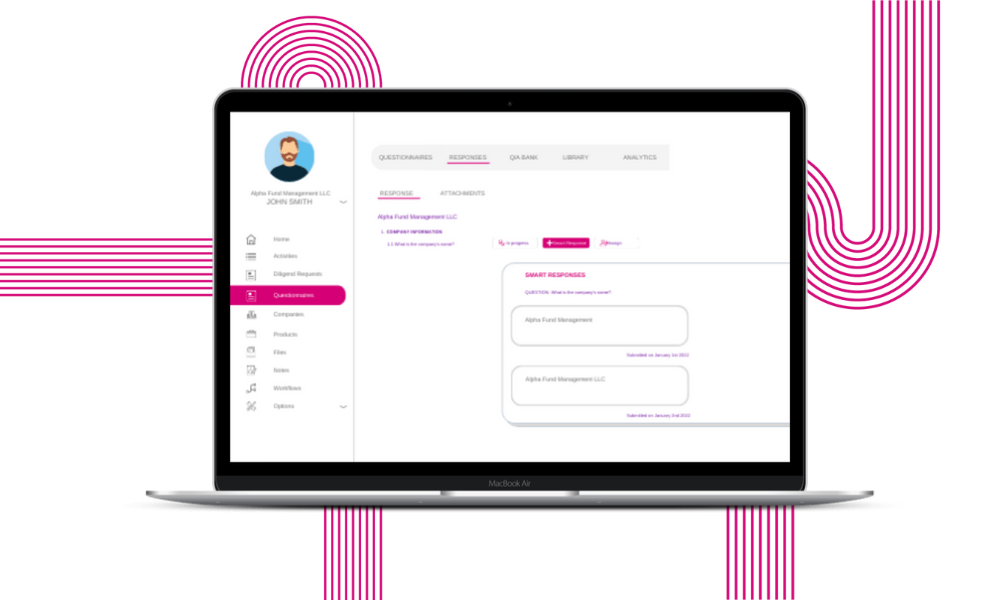 DASSETI RESPOND
Elevate your position in the market
Don't just respond to LP RFPs and DDQs, craft customized responses, improve the speed and quality of data you provide and stand out in a competitive landscape
Microsoft Word Plugin and Editor
Leverage Diligend's advanced automation features within the original Word format for speed and ease.
LP Profile with File Management
Maintain a rich LP profile in a comprehensive, integrated CRM platform.
Centralized Response Bank
Add new responses with one click. A single source of truth makes it easy to find and share the latest response data.
Microsoft Word/PDF/Excel Document Scraping
Significantly accelerate processes with advanced automated data ingestion and smart matching.
Smart Response Auto Suggestion
Natural Language Processing technology scans questions and suggests a most likely response.
Team Workflow and Oversight
Assign specific questions to team members and monitor progress with oversight dashboards.
Meet compliance and LP requirements with full audit trails for all DDQ and RFP activity.
Customizable Report Templates
Create stylized, branded documents to share key information with leaders.
PRIVATE EQUITY MANAGERS
Transform your DDQ and RFP response process
Receive DDQ or RFP request
LPs send requests in any format. Dasseti can accept all formats.
Manage multiple requests simultaneously.
Apply Dasseti
NLP tool scans and digitizes questionnaires.
Automatically suggests appropriate answers.
Confirm responses
Select from suggested response or create new.
Assign questions to team members.
Validate and approve.
Return to investors
Return in original format. Speed up delivery time and improve consistency.
Automate processes and reduce manual input.

DASSETI RESPOND GP PLATFORM
Contact us for Pricing
Customize your RFP and DDQ Process
---
Centralized response bank

Smart response auto suggestion

Team workflow and oversight

Microsoft Word plugin and editor

Investor profile with file management

Full audit trail

Customizable report templates

Word, PDF and Excel document scraping
Digitize your DDQ and RFP Response Process