DASSETI COLLECT FOR INVESTORS IN PRIVATE MARKETS
Organize and analyze your investment portfolio data
A digital platform that streamlines GP due diligence, de-risks the investment portfolio and ensures compliance with a full audit trail
DASSETI COLLECT FOR LIMITED PARTNERS
Reduce the risk of investing in private markets
Speed up time to collect the data you need to assess and compare GPs and funds. Minimize investment risks and stay compliant.
Email Integration
Seamless integration with Outlook allows you to search, manage and organize emails and attachments effortlessly.
Document Scraping
Ingest and use the data from any document, in any format. Remove the need for manual data input with Natural Language Processing.
ESG Dashboards
Collect and analyze ESG and diversity data separately in custom portals. See the data that matters to you, sliced or diced across funds, asset classes or GPs.
Data Room Integration
Automate data collection from GP data rooms to manage and analyze it in the Dasseti platform.
Questionnaire Engine
Create questionnaires from scratch, use best practice templates or ingest pre-filled responses. Simple, intuitive and customizable.
Fund and GP Data Tracking
Set up pre-defined flags and alerts to track risks within funds or GPs.
Workflows and Collaboration Tools
Fully customizable to match your own processes. Allocate tasks, track activities and progress. And see a full audit trail.
Review and Risk Management
Review only the data you want to see in the fully customizable review module.
Automated Scoring and Comparison
Review your portfolio at a glance, with customizable, automated scoring and comparison features.
Analytics and Reporting
Fully customized, automatic report creation in any format. Linked directly to your CRM or database.
GP Portal
The GP portal is user friendly and intuitive. GPs can pre-fill from previous answers or drag and drop where required.
CRM and Document Management
Outlook and SharePoint integrations let you track contacts, emails and shared documents. Enrich your data.
BEST PRACTICE GUIDE
Get our free Best Practice Guide to Digitizing the Due Diligence Process
Step by step guide to taking your due diligence process to the next level.
DOWNLOAD NOW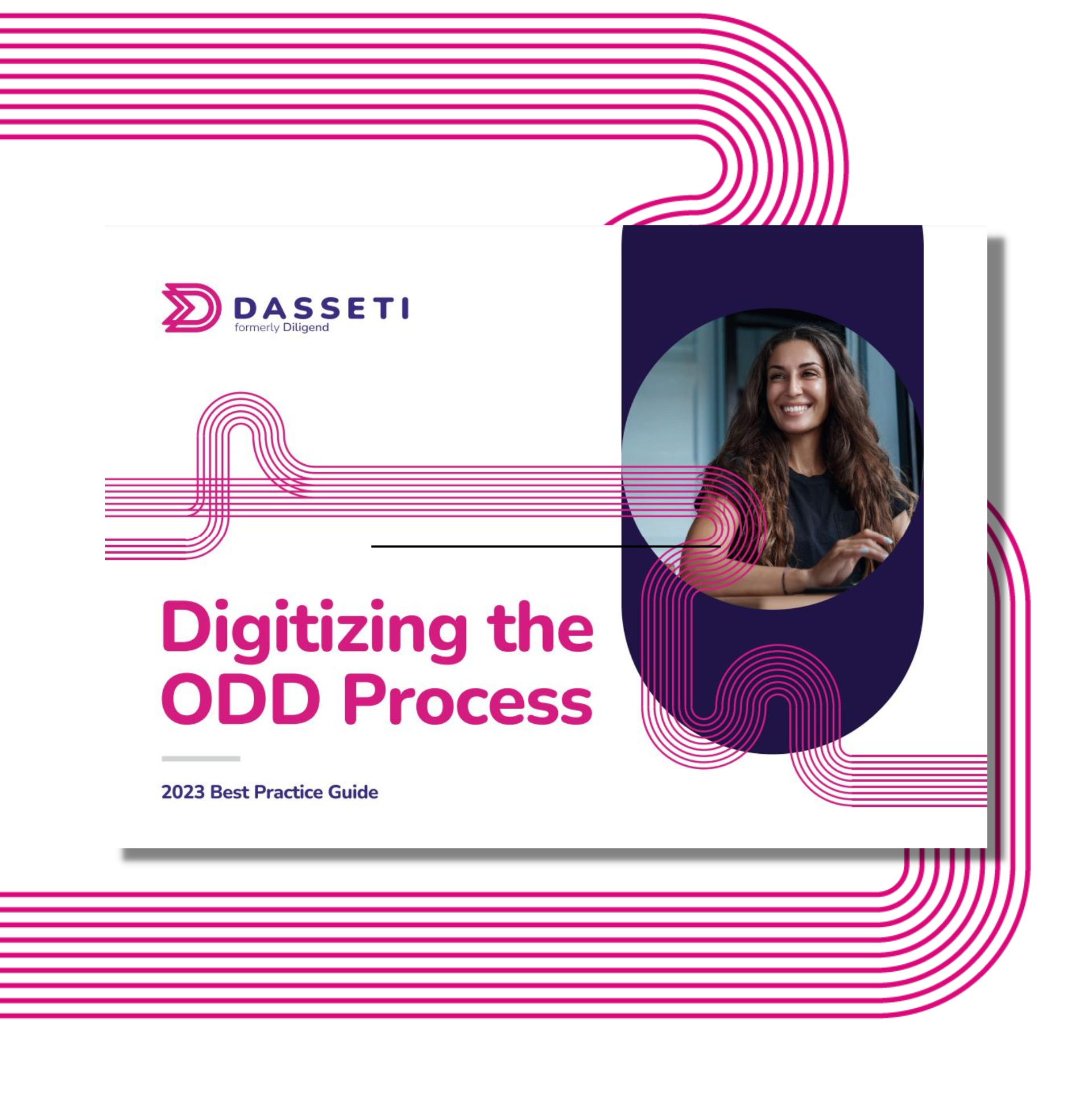 DASSETI COLLECT FOR PRIVATE MARKETS
One platform, many use cases
GP Monitoring

Data Aggregation

Document Management

Email Storage

Meeting Oversight

ESG and DEI Data Collection
Gain complete and continual visibility into your portfolio of GPs
Regular, consistent monitoring of GPs is essential for institutional limited partners.

Dasseti de-risks the investment process by making it easier than ever to open regular dialogue with your GPs. Dasseti provides a frictionless, intuitive portal for GPs to provide the information you need on a regular basis.
Seamlessly import documents from data rooms using robust APIs
Dasseti works in harmony with standard workflows and practices in private markets. Robust, secure APIs allow integration with data rooms, allowing you to ingest documents from data rooms to view and analyze in the Dasseti Collect platform, alongside qualitative data from other sources.
Identify gaps, centralize and standardize your research documents
Empower your portfolio managers and analysts with highly organized research documentation. Bring order and efficiency with a digital solution that flexes to fit your specific workflows.
Store and search emails with ease
Capitalize on the rich data stored in emails by tagging certain words, names or phrases and automatically copying to GP or fund files.
Maintain oversight of board and advisory meetings
Schedule meetings, pull board reports together with a few clicks and visualize investment data using custom charts and graphs.
Visualize your portfolio's ESG and diversity position
ESG and Diversity, Equality and Inclusivity issues are at the top of the agenda for citizens and regulators. Collect any GP data point and gain visibility into portfolio companies using the Dasseti questionnaire builder, displayed in a custom dashboard. Or use industry standard templates like the ILPA DDQ which includes diversity metrics from the PRI.

Dasseti Collect
Limited Partners (LPs)
Streamline the data collection and analysis process. Enhance relationships with your GPs.


---
Data Room Integration

Fund and GP Tracking

Workflow and Collaboration Tools

Review and Risk Management

Automated Scoring and Comparison

Analytics and Reporting

CRM

Research and Document Management

Automatic Email Flagging

ESG and DEI Data Collection

Dasseti +
Private Market Investment Consultants

Contact us to discuss your exact requirements
---
Every feature in Dasseti Collect, plus

Dedicated Client Portal

Private Cloud Hosting

White labelling

Advanced Custom Reporting Options
De-risking private market investments